Jennifer Connelly Net Worth
What is Jennifer Connelly's net worth?
| Net Worth: | $20 Million  |
| --- | --- |
| Country of Origin: | United States of America |
| Source of Wealth: | Professional Actress |
| Last Updated: | 2020 |
Jennifer Connelly Net Worth in 2020
As of 2020, Jennifer Connelly's net worth is about 20 million dollars. Jennifer Connelly is an award-winning American actress. Connelly was born on December 12th, 1970, in Cairo, New York.
How Jennifer Connelly makes her money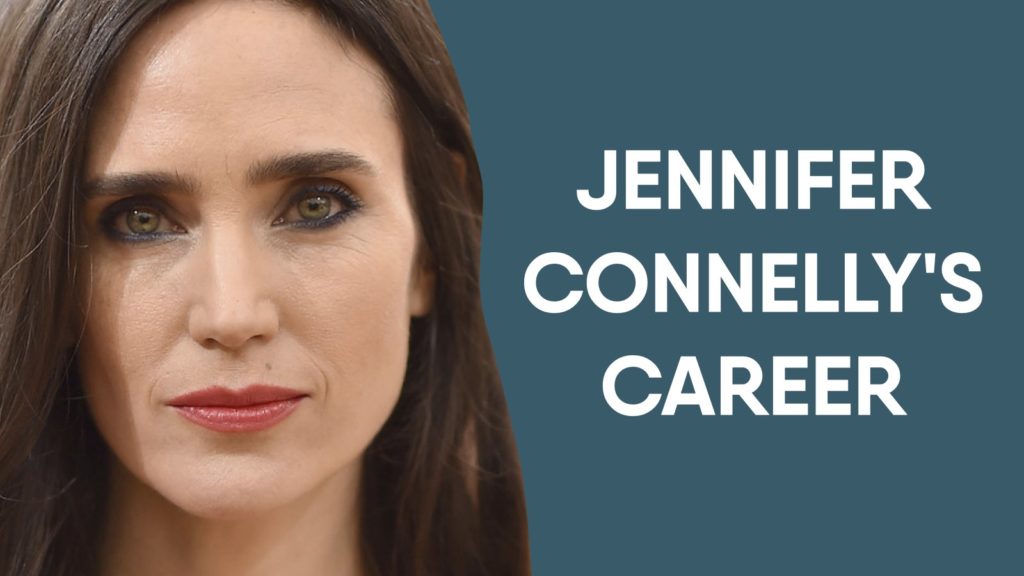 Jennifer Connelly is a winner of the Oscar and Golden Globe for her role in A Beautiful Mind. She is well recognized for her performances in films such as Snowpiercer (2020) Hulk (2003), Labyrinth (1986), House of Sand and Fog (2003), Blood Diamond (2006), and Requiem for a Dream (2000).
Jennifer Connelly has appeared in numerous commercially successful movies and has won countless prominent awards for her acting skills. Jennifer Connelly's net worth is 20 million dollars, as of 2020.
Connelly started a career as an advertising model, she appears on several magazine covers and later in television commercials.
In 1979, she was offered a role in a British television series. From then on, she shifted her venture as a model for acting roles.
A few years later, in 1984, she had her film debut. A casting director introduced her to director Sergio Leone, who was looking for a young actress who knew how to dance for her movie Once Upon a Time in America. Even though Connelly did not appear more than a couple of minutes on screen, they were enough to reveal her talent.
Jennifer Connelly later got his first preeminent role in Phenomena (1985), by Dario Argento; The film amassed a lot of box office success in Europe but was released in the United States censored version.
In 1986, at the age of 16, Jennifer Connelly starred in what is one of her most iconic films. Many remember her, Labyrinth, along with the David Bowie, directed by Jim Henson. In 1990 she filmed The Hot Spot, a sensual movie with Don Johnson, with whom she claims they had a relationship and lived together for a time.
In 1991 Connelly starred at superhero film The Rocketeer, alongside Timothy Dalton. In the following years, she continued to take roles in the cinema, some in little relevant movies, but others in films well received by the public. She received critical acclaim for her performance in the science fiction film Dark City (1998), and In this way, Connelly became an actress known and acknowledged by many directors.
In 2000, the young director Darren Aronofsky chose her to co-star in his second film, Requiem for a Dream, which gave life to Marion, a young drug addict.
In 2001, Jennifer Connelly received recognition for her work when she won the Academy Award for Best Supporting Actress, a Golden Globe Award. And an award from the British Academy of Film for her portrayal of Alicia Nash in A Beautiful Mind.
Connelly performance in the film he starred in alongside Ben Kingsley, House of Sand and Fog (2003) was one of the most acclaimed of her career. The movie received worldwide critical acclaim, despite missing to earn the Oscar nomination as expected.
She later participated in the movie He's Just Not That Into You, a romantic comedy featuring a cast of famous actors like Drew Barrymore, Bradley Cooper, Jennifer Aniston, and Scarlett Johansson.
Jennifer Connelly voiced the female character from the animated movie 9, and returned to work alongside her husband, Paul Bettany, on Creation, giving life to Charles Darwin's wife. She could be seen again under the command of Ron Howard in the comedy The Dilemma.
In Virginia (2010), she changed her hair by dyeing a blonde to play the leading role in the film. She gave life to a single mother who maintains a secret relationship with the city sheriff. A character played by Ed Harris. In the 2010s, Jennifer Connelly took on supporting roles in Aronofsky's biblical epic movie Noah (2014), among other dramatic films.
Jennifer Connelly has been the face of Balenciaga fashion, as well as for Revlon cosmetics. She was also named the first global face of the Shiseido Company in 2012. 
Many Magazines, including Time, Vanity Fair, the Los Angeles Times  Esquire, have included Jennifer Connelly on their listing of the world's most beautiful women.