How much is Meek Mill worth 2020?
| Net Worth: | $20 Million  |
| --- | --- |
| Age: |  33 years  |
| Country of Origin: | United States of America |
| Source of Wealth: | Professional rapper |
| Last Updated: | 2020 |
Meek Mill's Net Worth in 2020
As of 2020, Meek Mill's net worth is an amount to be 20 Million dollars. Meek Mill is an American famous hip-hop recording artist who is signed to Rick Ross's Maybach Music Group (MMG) and Atlantic Records. He also has his label imprint, Dream Chasers Records, which is managed under Jay-z's Roc Nation.
How Meek Mill makes his money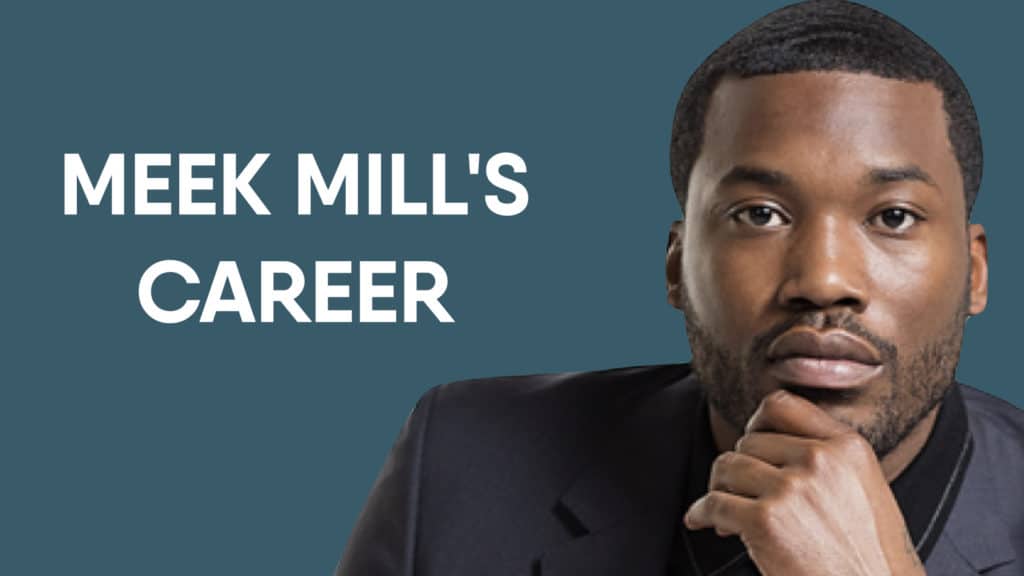 Meek Mill, born Robert Rihmeek Williams, is one of the world's most successful rapper from South Philadelphia. Meek is famously known for his hit songs "R.I.C.O.," "I'm a Boss," "All Eyes on You," "Dreams and Nightmares (Intro)," and "Litty,"
Meek Mill's earnings are mainly from his several studio album sales, tour performances, non-music investments, and endorsements deal from the likes of Puma and Amazon. As of 2020, Meek Mill's net worth is 20 Million Dollars.
According to Celebrity Net Worth. Meek Mill earnings 15 million dollars between 2017 and 2018, and between 2018 and 2020, he earned 20 million dollars, which makes Meek Mill one of the top highest-paid rappers on the globe.
How did Meek Mill get famous? Meek started his music career as a battle rapper by participating in numerous rap battles, and later, he formed a group called The Bloodhoundz. His solo career blew with his couple mixtapes, The Real Me and The Real Me 2. His following mixtape Flamers attracted the attention of Atlanta-based rapper T.I, and he signed Meek Mill to his Grand Hustle Records in 2008.
However, both rappers found themselves in legal trouble. In February 2011, Meek leave Grand Hustle Records and signed with the rapper Rick Ross's Maybach Music Group (MMG), where he released two hit singles, "Ima Boss" and "Tupac Back," for the group's Self Made Vol. 1. Meek went on to surface on the album nine times. The Maybach Music Group (MMG) label released two more compilation albums, Self Made Vol. 2 and Self Made Vol. 3, with Meek on it four and six times, sequentially.
Meek Mill released his mixtapes Dreamchasers in 2011, Dreamchasers 2 in 2012, furthermore Dreamchasers 3 in 2013. The Dreamchasers series became his popular and successful music projects.
Meek Mill launched his label imprint in 2012 named Dream Chasers Records, which he termed after his mixtape series.
In 2012, Meek Mill's debut his album, Dreams, and Nightmares under MMG and Warner Bros. Records, which sold over 165,000 copies in the first week. Meek released his second album, Dreams Worth More Than Money, in 2015, furthermore his third album, Wins & Losses, in 2016. While his fourth studio album, Championships, was released in 2018, which sold over 229,000 album-equivalent units in the first week.
In June 2020, Meek Mill released a protest song titted"Otherside of America."
Meek Mill has worked with many famous musicians like Mariah Carey, Rick Ross, Birdman, Akon, Future, Waka Flocka Flame, Nicki Minaj, DJ Khaled, Wale, Trina, Lil Wayne, Jadakiss and many more.
Meek Mill always emerged in the headlines for his numerous vendettas with several rappers, including Beanie Sigel, Drake, Kendrick Lamar, Cassidy, The Game, Wale, 50 Cent and his ex-girlfriend Nicki Minaj.