| Net Worth: | $3.2 billion |
| --- | --- |
| Nick Name: | Kanye West |
| Real Name: | Kanye Omari West |
| Age: | 42 years |
| Born: | June 8, 1977 |
| Country of Origin: | United States of America |
| Height: | 1.73 m |
| Spouse: | Kim Kardashian |
| Source of Wealth: | Professional Rapper/Fashion Designer |
| Last Updated: | 2020 |
Kanye West's Overviews
Kanye Omari West is an American record producer, rapper, singer, songwriter, fashion designer, and entrepreneur. Kanye West was born in Atlanta, Georgia, to mother; Dr. Donda C. (Williams) West and father; Ray West. His parents divorced when he was age three when he moved to Chicago, Illinois.
Kanye West came into the limelight as a producer for Roc-A-Fella Records in the early 2000s, producing singles for several mainstream artists.
In 2004, He released his first album, "The College Dropout," and founded the record label GOOD Music.
In 2005, West released his second album, "Late Registration."
In 2007, he dropped his third album, "Graduation."
In 2008, he released his fourth album, "808s & Heartbreak".
In 2010, he released His fifth album, "My Beautiful Dark Twisted Fantasy." The album became the most acclaimed album of his career and was hailed by several critics as the best album of the decade.
In 2013, he dropped his sixth album, "Yeezus."
In 2016, he released his seventh album, "The Life of Pablo."
In 2018, he released his eighth album, "Ye."
In 2019, he dropped his ninth studio album, "Jesus Is King."
Kanye has collaborated with different artists in the industry on singles and in the creation of full-length albums. In 2011, he released an album with Jay-Z called; "Watch the Throne," and In 2018, he created another album with; "Kids See Ghosts" with Kid Cudi.
Kanye West is additionally a fashion designer. As a fashion designer, he has worked together with Nike, Louis Vuitton, and Atelier de Production et de Création (A.P.C.) on both clothing and footwear, and have remarkably succeeded in the Yeezy collaboration with Adidas launching in 2013. He is the founder and leader of the creative content company, D.O.N.D.A., named after his mother.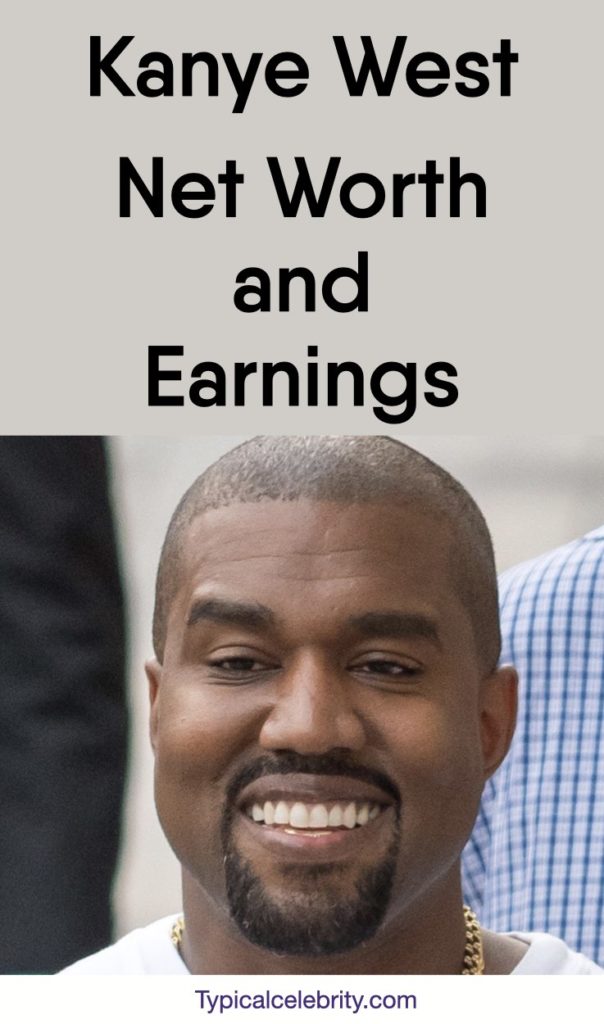 Some Of West's Accolades Are:
1. He has won a total of 21 Grammy Awards, confirming him one of the most awarded artists of all time.
2. The Chicago Chapter's Recording Academy Honor.
3. The Billboard Artist Achievement Award.
4. A joint-record three Brit Awards for Best International Male Solo Artist, including the Michael Jackson Video Vanguard Award.
5. Three of Kanye West albums have been added and ranked on Rolling Stone's 500 Greatest Albums of All Time list.
6. He is the tied-holder for the most albums topping the annual Pazz & Jop critic poll with four.
7. Time magazine dubbed him one of the 100 most influential people in the world in 2005 and 2015.
Kanye West's Net Worth 
As of 2020, Kanye West's net worth is 3.2 billion dollars. West is one of the world's best-selling music artists, with over 140 million records sold worldwide. Kanye West owns approximately $120 Million worth of real estate in the United States of America (land, buildings, and homes). His music catalog, including G.O.O.D. Music, brings in $80 million, and the Value of the Yeezy brand is $1 billion. According to reports by Celebrity Net Worth, his other assets and liabilities come up to $120 million. Kanye West is arguably the most influential talented artist of the last several decades.